Moderators: Breakthru, Andreas Streng
Made In Heaven

Posts: 1126
Joined: 18.02.2005 16:12 Uhr
Location: Wien
Contact:
Freddie Mercury Memorial Night 2015 - The Show Must Go On!
Am 24.11.1991 hat Freddie Mercury die Bühne des Lebens für immer verlassen.
24 Jahre später gedenken wir dem Champion mit einem Special Event.
Freddie Mercury Memorial Night 2015
24. November 2015 - 19.00 Uhr
Addicted To Rock
Getreidemarkt 11, 1060 Wien
Eventprogramm:
Freddie Area
Präsentation der DVD A Night At The Odeon
Gedenkminute um 19.48 Uhr MEZ
Verlosung / Gewinnspiele von Queen Preisen
und natürlich Musik von Queen und Freddie Mercury.
I don´t want to be a Rock Star – I want to be a legend!
Dieser legendäre Spruch von Freddie Mercury ist längst Realität geworden.
Lang lebe König Freddie und Queen!
Rock on!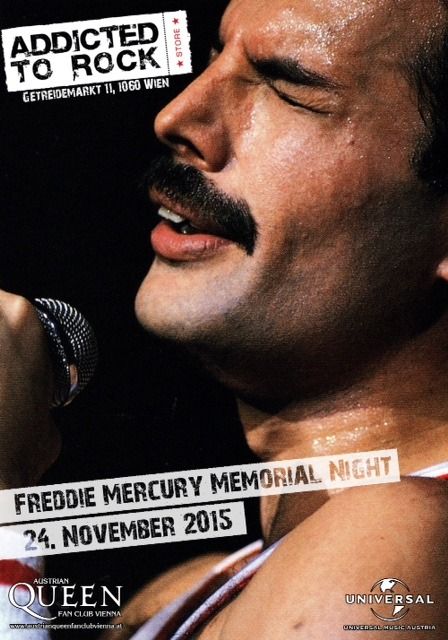 Hallo queenrocks, ihr macht in Wien ja wirklich tolle Sachen. Würd gerne dabei sein. Aber von Dortmund nach Wien ist ja kein Katzensprung. Ich wünsch euch auf jeden Fall einen schönen Abend in Erinnerung an Freddie. Um 19.48 mach ich auf jeden Fall hier bei mir mit. Rock on. Gruß jutta
Webmaster
Posts: 7026
Joined: 11.04.2004 15:44 Uhr
Location: Dortmund
Contact:
Danke, habe ich in die Termine übernommen.
Viel Erfolg!

Bis dann
Andreas
Made In Heaven

Posts: 1126
Joined: 18.02.2005 16:12 Uhr
Location: Wien
Contact:
Das finde ich klasse! Ich wäre auch sehr gerne dabei, ist aber leider für einen Kurz-Trip sehr weit weg. Bei mir wird den ganzen Tag eine Kerze brennen!
LG
Carmen